Annetta Lucero is a legend in the world of baton twirling.
Her accomplishments span decades and include three world championship titles.
She is also a Guinness World Record title holder twice over, a Cirque Du Soleil Talent Bank Athlete, and a world renowned choreographer.
She is a friend of and helped Kristen with her routines. Annetta lives in Hawaii.
When Annetta became aware of what we were trying to achieve, she offered to share details of routines that could be used by Wheelchair Baton Twirlers.
What Annetta does in Baton Twirling is very different to our Troupe, as it is a specialist format that includes gymnastics.
Below is a video clip of Annetta in action during 1983
WHEELCHAIR BATON TWIRLING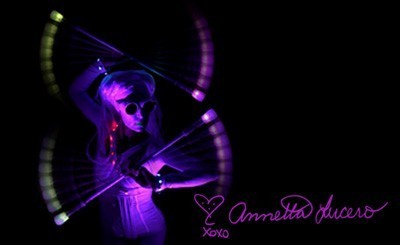 Annetta also endorsed the make of Illuminated Batons we use.