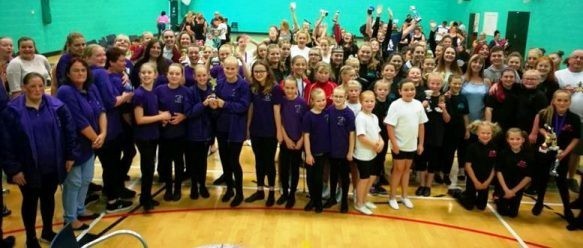 Merriott Majorettes hosted a charity competition at the 1610 sports centre in Crewkerne, in aid of St Margaret's Hospice and Little Daffodils working together with Towards Tomorrow Together. Majorette troupes from Somerset, Devon and Dorset attended and competed in the Tot, Junior and Senior Military classes, Tot, Junior and Senior Twirl section, Tot, Junior and Senior Pom and the Tot, Junior and Senior duets, receiving extra points for Best Dressed and Best Lead. There were also individual classes for Tot, Junior and Senior Trouper, Mace, Twirl and Pom with a Spin Elimination.
Before the trophies and shields were presented to the winning troupes, duets and individuals, there was Parent Fun with the Castle Cary Cygnets, Port Bredy Allstars, Devon Dynamites, Chard Evolution and Cullompton Ace.
The Melody Scott Memorial Trophy was presented to Chard Evolution for the best supporting troupe and the George Counsell Memorial Trophy awarded to Port Bredy Allstars for most promising troupe.
£600 was raised which will be shared equally between the two chosen charities.
St Margaret's Hospice is a registered charity that provides 24 hours of dedicated, compassionate hospice care to the people of Somerset. Little Daffodils is a pregnancy and infant loss support group based in Chard. The group is supported by the registered charity Towards Tomorrow Together and meets on the first Tuesday of every month from 7.30 pm. For more information on Little Daffodils and the location of their confidential support group, please email littledaffs.towardstomorrow@gmail.com
Juliet Mckelvey of Merriott Majorettes said: "Samantha organised all the invites to the visiting troupes. Everyone had a great day and said that it was a friendly relaxed atmosphere. We were happy with the profit made for the two charities and I would like to thank everyone who helped make the day a success."
MERRIOTT MAJORETTES CHARITY COMPETITION
13th August 2017
Port Bredy Allstars Winning Duet Routine
Extract From Port Bredy Allstars Runners Up Military Routine
Extract From Port Bredy Allstars Runners Up Baton Routine
Extract From Port Bredy Allstars Pom Pom Routine
Hope you enjoyed playing the videos, above is photo of all the Troupes that took part.